Hematoma evacuation is a type of surgery for a brain bleed. Burr holes or a craniotomy is used to evacuate/remove a brain bleed.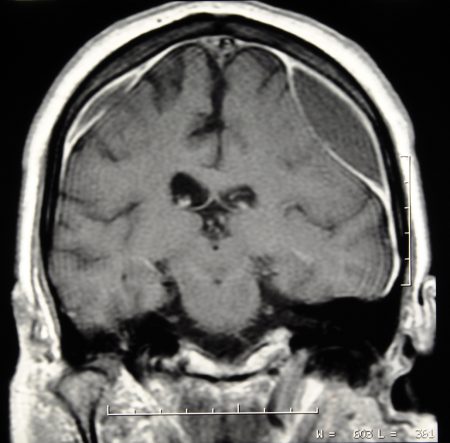 Burr Holes for Drainage of a Brain Bleed
Burr hole drainage is a surgical procedure used to remove a blood clot near the brain. These blood clots are known as subdural hematomas because they form under the dura, which is the protective covering of the brain.
Hematomas usually require removal because they can compress the brain tissue and cause life-threatening complications. In certain cases, a traditional open surgery, known as a craniotomy, may be necessary.
The surgeon will make a small incision in the scalp, then use a special surgical drill to create a small perforation in the skull. The dura is cut open to reveal the hematoma. Irrigation is employed to rinse the area out and to remove the blood clot. Once that has been accomplished, the surgeon will close the incision.
Sometimes a drain is left behind on the surface of the brain to help prevent a reaccumulation of the blood.
Craniotomy for Brain Bleed Removal
At times, a craniotomy, or temporary removal of a part of the skull, must be performed to treat a hematoma.
The cause of such hemorrhage is usually a traumatic head injury from a fall, a vehicular accident, or a sports injury.
Such incidents are more common in the elderly or in anyone who is taking anticoagulant medication. Because a hematoma may cause unconsciousness and even death, the craniotomy is often a lifesaving operation.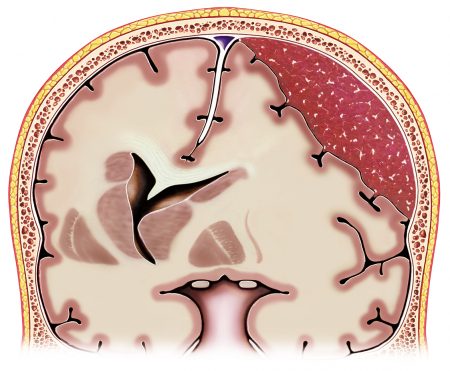 Craniotomy for Epidural Hematoma
Craniotomy for Subdural Hematoma
The complications of burr hole drainage or Craniotomy for a brain bleed removal may include reaccumulation of the brain bleed requiring another surgery, permanent brain injury, seizure, stroke, weakness, paralysis, bleeding, and infection.
The postsurgical craniotomy patient spends some time in intensive care (ICU) until vital signs are stable and the patient is alert. Once out of ICU, the patient will remain hospitalized for several days until stable for discharge to a nursing facility, rehab, or home.
Patients are generally required to remain in the hospital for a period of several days following a burr hole drainage procedure, including some time in the ICU. If a drain is in place from surgery, this is usually removed 1-2 days after surgery. The patient is then evaluated to see if the patient could return home or a rehab facility.
Ready to learn more? Contact us today to get started.
New & Existing Patients: Request An Appointment
New and existing patients may request an appointment by filling out the form below. Someone from our team will be contacting you to schedule an appointment time.